Franco-Gabonese self-made entrepreneur Nicolas Pompigne-Mognard is the
Founder, chairman and 100% owner of APO Group, the leading pan-African
communications consultancy and press release distribution service.
Nicolas created APO Group in 2007 while he was a journalist for online Gabonese media Gabonews and Deputy President of the Pan African Press Organization in France (APPA – Association de la Presse Panafricaine). He founded the company with a savings of €10,000, as start-up capital. The objective was to provide international and African media access to reliable news about the continent's economy, businesses, and investment. Since then, APO Group has helped communicators relay compelling, uniquely African stories to audiences, enabling a change in the African narrative to a more positive tone.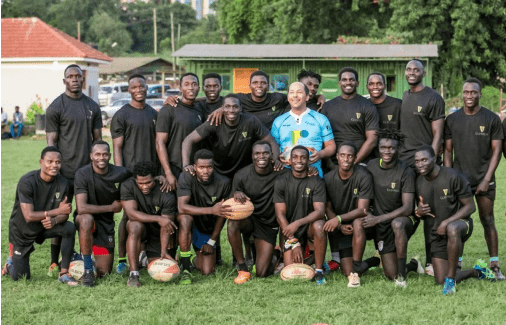 APO Group works with more than 300 clients, ranging from governments to international institutions, prominent personalities and companies active in Africa. Some of APO Group's prestigious clients include: Facebook, Dangote Group, Nestlé, GE, NBA, FIFA, Canon, DHL, Marriott Group, Ecobank, Siemens, Standard Chartered, Orange, Jack Ma Foundation, African Development Bank, World Health Organization, Islamic Development Bank, Liquid Intelligent Technology, Rotary International, Kaspersky, Greenpeace…
APO Group is:
APO Group is the strategic partner of Getty Images in Africa and has established partnerships with the African Union of Broadcasting, Bloomberg, Thomson Reuters, CNBC Africa, Channel TV (Nigeria) and Africanews, a subsidiary of Euronews.
APO Group is a also member of the UNESCO's Global Education Coalition, of the UNESCO-led Global Alliance for Partnerships on Media and Information Literacy, and has established partnerships with the World Health Organization (WHO), the African Union Commission, Invest Africa, the African Venture Capital Association (AVCA), Venture Capitalism for Africa (VC4A), and The Canada-Africa Chamber of Business.
In December 2018, Nicolas stepped down as CEO of APO Group and was succeeded by a former CEO for Africa, the Middle East and Eastern Europe of Orange Business Services, the B2B division of French Telecom giant Orange. His successor also served as Chairman of the Board of Orange Business Saudi Arabia, and Middle East Director in the Gulf region for Accenture.
During his time as CEO at APO Group, Nicolas has been growing the company as well as serving and advising hundreds of multinational companies to invest and conduct business in Africa. As Chairman, he is focusing on delivering high-level counsel for the company's clients and developing his investment fund dedicated to Africa.
Nicolas is a Senior Advisory Board member of The Canada-Africa Chamber of Business.
Nicolas is also an Advisory Board member of:
Since 2020, Jack Ma has invited Nicolas to be one of the seven semifinal judges of the annual  Africa's Business Heroes (ABH) prize competition, helping to identify the ten finalist who go forward to compete in a 'pitch finale' in front of Jack Ma himself.
Nicolas was also a speaker at the Bloomberg Africa Business Media Innovators forum 2019, at the Africa Women Innovation and Entrepreneurship Forum (AWIEF) 2019, a moderator at the Africa Hotel Investment Forum (AHIF) 2019 and at AHIF's Africa Tomorrow conference 2020.
Nicolas' success story has been featured on CNN, in Forbes, in Forbes Africa, and on CNBC Africa.
Prior to founding APO Group in 2007, Nicolas served successively as Deputy-Director of the French regional daily newspaper Le Petit Journal, Director of FNSEA farmer's Union in Tarn-et-Garonne (France), parliamentary assistant at the French parliament (Assemblée France), correspondent in Europe of the Gabonese press agency, Gabonews, and Deputy-President of the Panafrican Press Association in France (APPA). Pompigne-Mognard studied law at the Université de Lille (France), and speaks English and French. He is married with three children and lives in Lisbon, Portugal.
NICOLAS AT A GLANCE
VIEW MORE INFO